DEX 3 is professional DJ Software for MAC and Windows that allows you to seamlessly mix music, music videos and host karaoke shows. DEX 3 gives you full control over your media, allowing for more creative freedom while mixing than ever before.  With our beat-grid based automatic beat mixing and key detection it's easy to blend tracks, allowing you to focus on the other aspects of your mix.
Since DEX 3 offers no-latency playback and support for today's hottest DJ controllers; loops, hot cues, and all playback features are ultra-responsive. Mix with DEX 3 using just a keyboard or mouse, or use one of the 75+ supported DJ controllers for tactile hands-on control.
Download DEX 3 today and cue up your imagination – DEX 3 is the complete DJ mixing software solution.  Now With Pulselocker Streaming Subscription Support!
Screenshot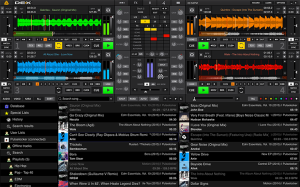 Tutorial Videos
Features
Up to 4 DJ decks (two for video and karaoke) with professional grade mixer and playlists
Pulselocker streaming support (with offline playback)
Two mode skin, complete with Audio and Video Tabs
Skin support – change the appearance of DEX 3 (Skin Designer) (DEX 3 Skins)
Fully manual or automatic mixing (one-click beat-matching)
Built in Effects (Filter, Echo, Reverb, Flanger, Pan, Bitcrusher and more)
Video mixing (including pitch, break, reverse, scratch video)
Video effects, Video transitions and NEW Video Mix Recording
Karaoke Singers List. (click for more info)
Timecode vinyl/CD support
Robust library with format filters, search as you type, and tag editing (New: "List Mode")
Change font dynamically (in real-time) in playlist/browser (press on the list to have focus and then press +/-/0 on your keyboard)
Store and recall cues and loops (and hot cues)
Seamless intelligent looping and beat-skip
Automatic grid-based BPM detection with batch processing
Automatic Key Detection for harmonic mixing
Vinyl simulation including scratch, pitch, reverse play, and brake
Headphone cueing and monitoring
Key stepper – configurable (full/half/quarter steps) with digital readout
Support for over 75 DJ Controllers
Automatic detection of arrival/removal of MIDI controllers
Analog input for microphone (with talk over),turntables, or CD player's
Pitch scaling for harmonic/key mixing
advanced auto-mixing including Mix-In/Mix-Out (Cue In/Out) points
Perceptual automatic gain (volume control)
Automix on Elapsed Time Option (IE: Fade to next track every 3 minutes)
Sample player – load up audio clips and trigger them
Karaoke CDG (MP3+G Zip and uncompressed) support
Record your mix to MP3, WAV or AIFF
Key-Lock (Master Tempo) – Very high quality option available!
ASIO/CoreAudio low-latency support
Browsing system with unlimited lists, disk explorer, database, and iTunes library import support
Load the whole song in RAM for instant access
DEX 3 reads mp3, m4a, wav, aiff, ogg, mp4, mpeg, avi, mov, flv, mkv, wmv, flac and more!(Non DRM)
DEX 3 works cross-platform, so your purchase will work equally well on a Windows computer as it will on a MAC!
One purchase allows activation on three computers
External Hardware Supported
Akai LPD8
American Audio 10MXR
American Audio 14MXR
American Audio 19MXR
American Audio DP-2
American Audio Versadeck
American Audio VMS2
American Audio VMS 4.1
Beamz
Behringer BCD-2000
Behringer BCD-3000
Beyond Music Abma 1, 3, 4, MIDI 8
DENON DJ MC6000
DENON DJ MC6000 MKII
DENON DJ MC4000
DENON DJ MC3000
DENON DN-HC4500
Faderfox DJ3
Hercules DJ Console MK2
Hercules DJ MK4
Hercules DJ RMX
Hercules DJ RMX2
Hercules DJ 4MX
Hercules DJ Control MP3
Hercules DJ MP3e2
Hercules DJ Steel
Hercules DJ Instinct
Hercules DJ Air
Hercules DJ Air+
Hercules DJ4set
ION DJ2Go
M-Audio Xponent
Novation Twitch
Numark IDJ3
Numark Mixtrack Pro
Numark Mixtrack Pro 2
Numark Mixtrack Pro 3
Numark N4
Numark DJ2Go
Numark NS6
Numark Mixdeck Express
Numark Mixdeck Quad
Numark 4-Trak
PCDJ DAC-3
Pioneer DDJ-SX
Pioneer DDJ-SX2
Pioneer DDJ-SR
Pioneer DDJ-SB2
Pioneer XDJ Aero
Pioneer DDJ Ergo
Pioneer DDJ WeGO
Pioneer DDJ WeGO3
Reloop RMP-4
Reloop Beatmix 4
Reloop Terminal Mix 8
Reloop Beatmix 2
Reloop Contour IE
Reloop Mixage CE
Reloop Digital Jockey 2 IE
Reloop Digital Jockey 2 CE
Stanton SCS.4DJ
Vestax VCI-100
Vestax VCM-100
Vestax VCI-100mk2
Vestax VCI-400
Vestax Typhoon
Zomo MC1000
Additional MIDI-IN with easy to use MIDI-LEARN (map your own MIDI controller)
Flexible support for HID controllers
User writable DJ controllers (create your own DJ controller maps and share them)
System Requirements
Minimum system requirements:
Windows: 7 or greater. XP / Vista IS NO LONGER SUPPORTED!!
Mac: OSX 10.7.5 or greater
CPU: at least 2GHz processor with 2 cores or more (Mac: Intel based CPU with OSX 10.6 (Snow Leopard) or greater required)
RAM: Minimum 4 gig
Video card: Dedicated card with at least 256mb required for video mixing, or Intel HD 3000 series shared card or better
DirectX or ASIO compatible sound card (Mac: Core Audio)
40 MB free on the hard-drive
Recommended configuration:
2.5GHz Intel Core 2 Duo / Core 2 Quad / Core i3/i5/i7 / Amd Phenon
4 GIG RAM or Better
Video card: Dedicated card with at least 512 mb
DirectX/ASIO compatible multichannel soundcard (Mac: multichannel Core Audio soundcard)
200 MB free on the hard-drive
200 MB free on the hard-drive
Note: The above are recommendations for standard 480p Video file Mixing.
- for 720p HD videos (1280×720) — at least 3GB of RAM, 4GB recommended, a video card with at least 512MB video RAM
- for 1080p/1080i full HD videos (1920×1080) — at least 4GB of RAM, 6GB recommended, a video card with at least 1gb video RAM
Considering that since HD signal cannot be run over long distances with out expensive AV equipment you might consider re encoding your videos to a 480p standard. (640 x 480).